About us
CHRIS JONES CLASSIC KITCHENS
Chris Jones Classic Kitchens is one of the foremost kitchen design companies in the United Kingdom with well over a quarter of a century of experience in providing practical elegance in kitchen planning.
The company offers an individual service to all its customers, taking them through the design process and offering essential advice on the many aspects to be considered when planning and purchasing a bespoke kitchen.
Chris Jones set up business in Edinburgh's Royal Mile in January 1975 offering the city's first integrated "design, supply and fit" kitchen studio, dedicated to good design. Chris had previously spent five years studying and practising architecture before working as Sales & Marketing Manager with two leading merchants, helping to develop innovative ideas for the kitchens and bathrooms market.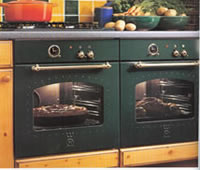 Since those early days Chris has used his experience and depth of knowledge to develop a thriving business and having a "Chris Jones Kitchen" has become an accolade enjoyed by an increasing number of home owners.
Currently Chris Jones bases his studio and offices in North West Circus Place, on the fringe of Edinburgh's New Town, but his client base is spread far and wide.
As well as serving the UK market Chris has provided advice to home owners in North America and parts of Europe. His client base includes several celebrities, as well as discerning individuals from all walks of life.
.