Design Considerations
The installation of a new kitchen in your home can enhance and change your lifestyle whilst adding significantly to the value of the house. This is a project not to be undertaken lightly as it will involve careful planning and thought, significant expense and some upheaval.
Chris Jones has developed clear ideas of what is needed to "get it right".
"Successful kitchen design comes down to three factors," says Chris,
" aesthetics, ergonomics and economics."

Aesthetics
Chris believes that spending time in the kitchen should be a pleasure, and so the room should look good and go on doing so for a considerable time. Classic durable materials such as marble, granite, brushed aluminium, stainless steel and wood have timeless appeal but colour should be discussed fully, as solid colour may look out of date fairly quickly.
"Think of the browns and the Hessian popular in the early 80s or the bright shiny greens or reds of a few years ago," says Chris, "it is probably much better to use highlights." Chris would personally plump for pale beech, cobalt blue, black or creamy yellow accents, but for traditionalists yearning for a splash of colour he suggests a painted kitchen.
"Of course you don't have to make a final decision until the kitchen has been installed. The whole room can also be repainted after a few years as tastes and fashions change."
Ergonomics
The kitchen must however do more than look good. It is important for the kitchen to function effectively and the ergonomics must be a serious consideration.
Chris believes that the kitchen must reflect the owner's lifestyle as it may have to cope with children descending on the biscuit tin after school, late suppers after the theatre, informal dining and family pets coming in after a walk in the rain.
"There are a multitude of possibilities and scenarios and imaginative solutions must be thought out for each."
Chris looks at the size of the family and its needs, the amount of entertaining carried out and the culinary requirements of the chefs.
Installing a new kitchen is the ideal time to ponder over new equipment and appliances. New ideas and state of the art equipment can be introduced at this time to change the overall look and feel of your kitchen. Combination ovens with grill, microwave and hot air functions are popular, while American fridges are invading the UK and replacing the smaller and impractical British versions.
"But," says Chris, "the kitchen should not become a repository for every stray piece of equipment in the house. The practice of having clothes washers and driers in the kitchen is peculiar to Britain. The Germans whose kitchen ideas and technology is second to none, find it hilarious. Ideally utility rooms would permit the kitchen to be the sole preserve of food preparation."
"The devil is in the detail," says Chris, "and careful thought must be given to optimise the use of the space that is available."
For example consider circulation space, necessary where there are patio doors in the kitchen and the family needs to troop in and out without getting in the way. You may also want an area to sit down for coffee or perhaps a glass of wine.
"Worktop heights are also important – units can be raised to avoid bending over or lowered to get within reach. Islands are an idea for the right kitchen and you must always consider flooring, tiling and lighting."
Economics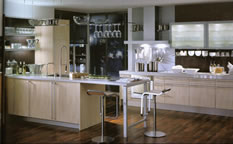 For most home owners the purchase and installation of a kitchen will be one of the largest purchases made. Choices have therefore to be made carefully. Bargain kitchens simply do not exist and you will pay for what you get. With kitchens as with most things, quality counts.
Chris Jones warns against cutting corners – "A cheap kitchen will begin to look dog-eared and defeated within a year or so. This is because appliances, sinks, taps, delivery and fitting are all fixed costs. The only area suppliers can lower prices is in the kitchen itself. Hence the problems which can occur with poor materials, collapsing cabinets, chipped laminates and awkward corners."
"Paying a little more and getting the right choice of materials and equipment is worth it. By going the extra mile you can expect a quality design, craftsmanship and style."

If you wish to discuss the planning and design of your kitchen call Chris Jones on 0131 220 1991.