Case Studies
"The bitterness of poor quality remains long after the sweetness of a low price is forgotten."
Throughout Scotland the property pages of newspapers often refer to a house as having a "Chris Jones Kitchen". The suggestion is obvious. The home that houses a kitchen planned and designed by Chris Jones is one of merit and something worth seeing. Praise indeed.
Over the past 25 years Chris Jones has planned and designed kitchens for all sorts of homes mostly in the UK but also in Florida, California and parts of Europe. Chris has also provided his own form of magic in designing a kitchen for JK Rowling. Over the years the styles and finishes may have changed but the same care and attention to detail has been provided to all.
As well as helping out individual home owners Chris Jones has been instrumental in providing help for developers keen on adding value to their property ventures. In particular Applecross has benefited from the Jones expertise.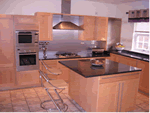 Recently Applecross developed a site at Harlaw Bank near Balerno in Edinburgh and Chris Jones was on hand to help with ensuring that the kitchens were of the highest quality.
" For Harlaw we used systemat furniture, granite worktops and stainless steel. The end result was most attractive".
"My sincere thanks to you and all your team for what I regard as an exceptional service. I am delighted with the project which looks first class. I know the quality is there and that you spent a great deal of time getting everything just right for my family and me."
Jean B of Stirling went to Chris Jones on the recommendation of a friend who had been delighted with the service she had received. Jean took Chris's advice with a light pastel coloured series of Zeyko base and wall units augmented with granite worktops. The splashes of colour came from the soft furnishings and wall colourings.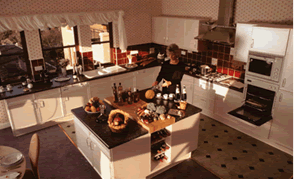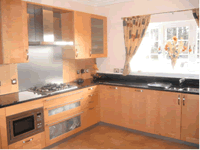 Lesley M of Strathclyde chose Systemat because of "the straight lines and crispness of the units." Lesley also chose granite for her worktops.
"I liked the look of Systemat as it seemed so solid and hard wearing – essential with two youngsters running around the place. The drawers on some of the units were so roomy and sturdy and yet easy to manoeuvre."
.
.