Product information
The past ten years have seen great strides forward in technology which has meant a wider choice of materials and techniques in kitchen design.
Worktops need no longer be laminated lengths of compressed wood as there is now the choice of granite, Corian and other attractive materials.
Corian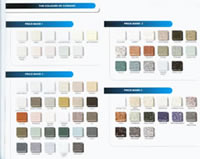 Corian is an original solid surface made from a subtle mix of natural minerals and clear acrylic. It provides a tactile, seamless and hygienic surface suitable for today's demanding consumer. Along with granite, corian is becoming more and more popular for use as an efficient and attractive worktop.
The unique properties of Corian mean that sinks, individual curves, inlays, upstands and a variety of other shapes can be created.
Corian is available in a large range of colours and patterns including matching or contrasting sinks and in modern or traditional, simple or complex styles.
Corian is non-porous and highly resistant to stains. Corian only requires a regular wash with hot soapy water to remove surface grime but if necessary a gentle abrasive can be used for more stubborn materials. Red wine, oils and vinegar will not permanently stain Corian but it is best to wipe up spillage as it occurs.
Corian can be damaged by excessive heat and scratched if used frequently as a cutting surface. The use of a heat protection pad and a cutting board are recommended.
Granite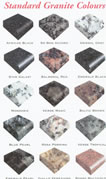 Granite is one of the oldest and hardest rock types mostly found in mountainous areas. Granite has properties which make it suitable for use in the kitchen and over the past five years granite worktops have become more and more popular. The very nature of the product ensures that subtle variations are expected and are indeed desired, adding to the originality that is singular and personal.
Granite has the following properties :-
Ability to withstand extreme pressure loading
Pleasing to the eye
Attractive polished finish
Variety of options in colour and pattern
Ideal for architectural use – vanity units, cladding, worktops
Extremely hard
Although Granite is very stable and very heavy and its molecular structure renders it rigid. It will not bend or flex in worktop situations and is therefore not suitable for long span applications.
Chris Jones – "It is very much a matter of choice for the individual whether to choose granite or plump for another material for worktops. Granite is a material that is never regular in its make up and can therefore look attractive because of its lack of regular pattern."